Description
Reserve your 1/4, 1/2 or whole cow for our bulk price of 8.50 per pound.
Quarter Cow, 70-90 Pounds
Half Cow, 140-180 Pounds
Whole Cow, 280-360 Pounds
Shoulder Roast, Round Steak, T-Bones, Seven Steaks, Brisket, Ribs, Chuck Roast, Rib-Eye, Sirloin, Rump/Heel Roast, Ground,Liver, Soup Bones
Steaks are cut 1 1/2″ thick
Ground Beef 1 Pound Pack
Boneless stew meat and short ribs are sometimes alternated with another cut depending on the cows size. Size and number of roast may vary as well. This is an average idea of what you will receive per quarter cow. The volume is about 4 paper grocery bags full of meat all labeled and ready for your freezer.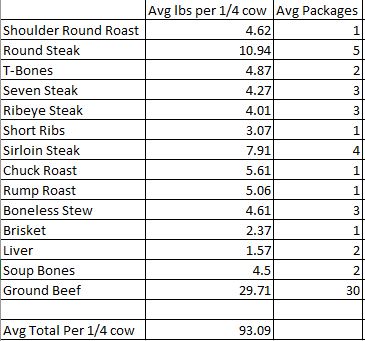 Additional information
| | |
| --- | --- |
| Cow Quarter Size | 1 Whole Cow, 280-360 Pounds, 1/2 Half Cow, 140-180 Pounds, 1/4 Quarter Cow, 70-90 Pounds |